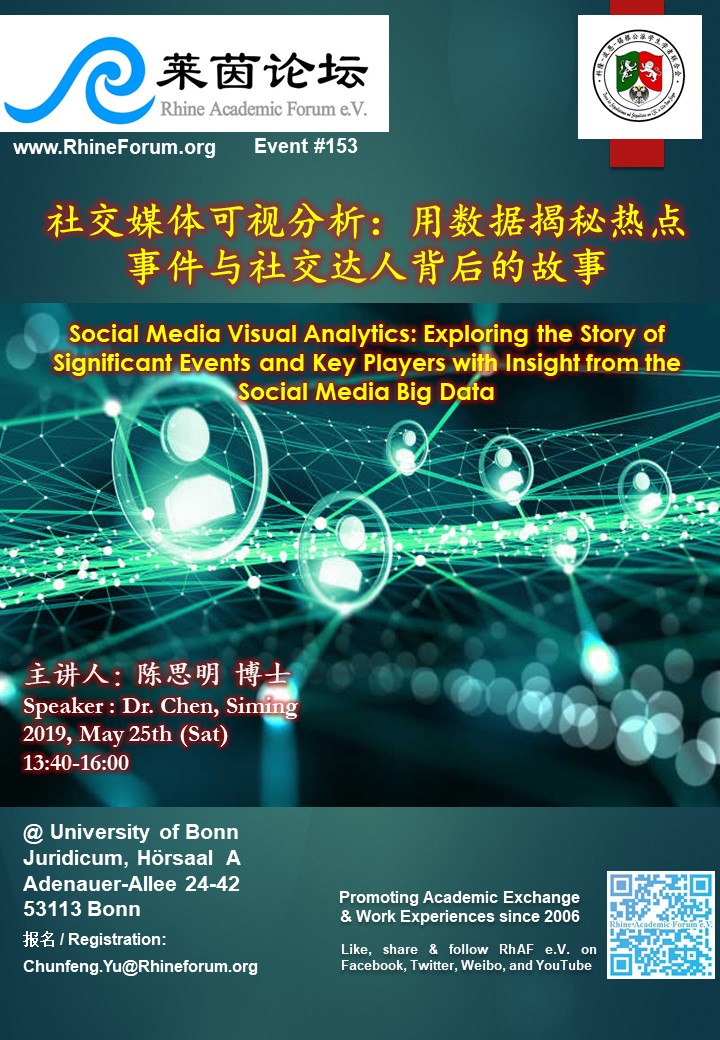 ---
主讲人:陈思明 博士, University of Bonn(波恩大学) / Fraunhofer IAIS
语言:中文(演讲),中文/英文(讨论)
讲座时间:2019年5月25日(周六),下午 13:40–16:00
地点: Juridicum , Hörsaal A (波恩大学), Adenauer-Allee 24–42, 53113 Bonn
地图:https://www.jura.uni-bonn.de/juridicum/gebaeudeplan/
活动报名链接: https://rhineforum.org/events/153-registration/
---
内容介紹:
数据可视化是将数据转换为图形的方法,随着数据量与数据维度的剧增,可视分析被提出并在近十年间获得了迅速发展。可视分析结合了数据挖掘、可视化与人机交互,结合机器的计算能力与人的判断能力,呈现交互的界面给用户进行深入可迭代的数据分析。
人们每天都接触着各式各样的社交媒体,包括Twitter、微博、Facebook、Instagram等等,每天经历着一个个的热点话题与网红爆款。你是否会好奇社交媒体中的信息是如何传播的,每个人在其中扮演着怎么样的角色?对于热点事件,其中的复杂演变脉络是如何,人们对事件的不同的态度和地域分布是否相关?网络上的"僵尸号"与"水军"又是怎样的一种存在?在本次演讲中,我将用可视化与可视分析的技术,把复杂的社交网络数据进行抽丝剥茧,将背后的故事与复杂的特征用可视化的方法挖掘并呈现。
---
主讲人简介:
陈思明博⼠, 德国波恩⼤学计算机系, 福建永安⼈。本科毕业于复旦⼤学信息安全专业。2017年于北京⼤学取得博⼠学位,研究⽅向为⼤数据可视化与可视分析。现任职 于德国波恩⼤学和德国弗劳恩霍夫智能分析和信息系统研究所,分 别担任博⼠后研究员、研究科学家,研究时空数据可视化,社交媒 体和⽹络安全可视分析。业余时间喜爱诗词,摄影和旅⾏,更多信 息请见http://simingchen.me 。
---
莱茵论坛 欢迎大家来参与153期的活动,大家星期六5月25日在波恩大学见!
---
Rhine Academic Forum e.V. – Event no. 153 (Chinese/English): Social Media Visual Analytics: Exploring the Story of Significant Events and Key Players with Insight from the Social Media Big Data
Speaker: Dr. Siming Chen
University of Bonn / Fraunhofer Institute for Intelligent Analysis and Information Systems
Language: Chinese(Presentation),Chinese/English(Discussion)
Time: 13:40-16:00 , May 25th(Sat), 2019. 
Place: Juridicum, Hörsaal A (University of Bonn), Adenauer-Allee 24–42, 53113 Bonn
Map: https://www.jura.uni-bonn.de/juridicum/gebaeudeplan/
Event sign-up:https://rhineforum.org/events/153-registration/
---
Presentation introduction:
Data visualization is a method to transform data into graphics. With the burst of large and complex data, Visual Analytics has proposed and developed greatly in the recent decade. Visual analytics combine data mining, visualization and human-computer interactions, which make full use of the computational power of machines and perception and judgmental capability of humans. Visual analytics provide an interactive interface for users to derive insight iteratively.
Social media, like Twitter, Weibo, Facebook, Instagram, etc., deeply changes peoples' daily life. There are numerous significant events, hot topics, or key players. Are you curious about how information diffuses in social media, and what roles different participants do perform, how the evolution of the significant events are and how peoples' attitudes related with geographical location change, or what the 'bots' in social media are? In this talk, the audience will be taken to the world of social media, with the visualization and visual analytics techniques to extract the insight and tell the stories.
---
Speaker Introduction:
Dr. Siming Chen is a research scientist at Fraunhofer Institute IAIS (Fraunhofer Institute for Intelligent Analysis and Information Systems) and a postdoctoral researcher at the University of Bonn (Germany). His research interests are general big data visualization and visual analytics. He focuses on visual analytics of social media, cyber-security data, and spatial-temporal urban data. He received his Ph.D. in Peking University in 2017 and his Bachelor's degree in Fudan University in 2011.
The Rhine Academic Forum e.V. warmly welcomes you to join this presentation on Sat 23th of June. See you in Bonn!
海报设计 | Poster design : Dr. rer. nat. Yu, Chunfeng
莱茵论坛 第153期 活动 – 社交媒体可视分析:用数据揭秘热点事件与社交达人背后的故事 | Rhine Academic Forum e.V. – Event no. 153 (Chinese/English): Social Media Visual Analytics: Exploring the Story of Significant Events and Key Players with Insight from the Social Media Big Data